Become a Member of the BHR Marshal Team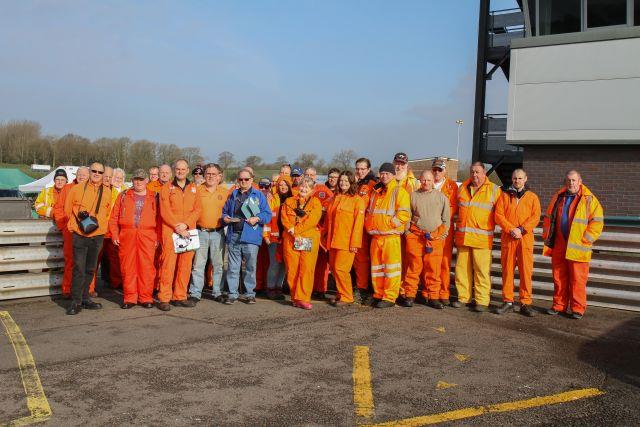 Have you ever wondered how to become a marshal and what is involved? Marshal's duties are always varied and interesting and after a period of training are very rewarding. BHR are also happy to welcome experienced marshals who have a day or weekend free. If you have never marshalled before, well this is how you can go about it.
There are no specific requirements expected from you except common sense and the love of motorcycles. You can contact us on any of the contact details and say you would like to get involved, we will send you out two tickets to the meeting(s) you would like to attend so you can bring a partner, family member or friend with you to either spectate or marshal with you.
2022 Marshals availability/registration form(s):
Online Form ( fill details and hit "submit" button) :- https://www.bhronline.uk/marshals

Once you arrive at the circuit you will be expected to sign on with the Chief Marshal (Lucien Burkhardt) who will talk with you to establish what experience if any you have and what you would like to do be it being a flag marshal or incident marshal. They will kit you out with some orange overalls, if you haven't already got any of your own and introduce you to the Sector Marshal who will be with for the day and he/she will pair you up with an experienced "Buddy". This Buddy will show you what to do and answer any questions you may have.
We don't expect you to commit to every meeting, and as the club travel to various circuits across the country we appreciate that not everyone's finances, work or family commitments permit this. You may only be able to do one or two meetings that is absolutely fine, all motorcycle racing clubs appreciate anyone giving up their free time to support them
Once out on track your Sector Marshal and Buddy will go through all aspects of what to do and what not to do, don't expect to learn everything all at once, this all comes with time and experience.
There are free marshal training days held across the country which are normally held before each race season starts. Dates are normally advertised by the Auto Cycle Union (ACU) see link, but this does not prevent you from marshalling beforehand so don't think you can't marshal because you haven't attended one.
The list below is a guideline to what you need to bring with you
A pair of Orange Overalls (can be obtained on the day)
Waterproof Coat and Trousers
Sturdy waterproof Boots (not wellingtons or trainers)
Warm Jumper
Flask and food to have throughout the day
Sunhat/sun cream/lip balm
Gloves (work wear type)
Change of clothes (for wearing on way home after wet weather)
Unfortunately, we cannot predict what the weather will be and you will be out on track for approx. eight hours a day so you do need to be prepared for everything, from wind, rain, snow and nice when we get sun, but even that can be uncomfortable so ensure you have plenty of fluids with you
What do you get from giving up your time, well you get an excellent view of the action, hopefully a feeling of enjoyment, the chance to meet others, make friends and share your experiences and £10 a day as a token of our appreciation for your time and hopefully you will come again.
So take that first step, come along and join us and if you don't like being track side we do have off track duties you can get involved with (machine or clothing scrutineering, noise testing, or being an official of the meeting). Most of these duties do involved training, but contact us and have a chat we would love to hear from you.
To get in touch with us about this please email bhrmarshals@gmail.com and we will be happy to answer any further questions you have or sign you up in advance so you can receive tickets for the fixture you intend on helping out at
Hope to see you
BHR